Our Pastor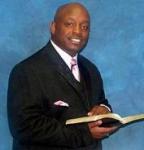 The Reverend Dr. LaBarron F. McAdoo, Sr. was born in Murfreesboro, Tennessee, April 28, 1964 to the late Thomas E. McAdoo, Sr. and the late Gracie M. Hampton. He is the fifth of six children. Reverend McAdoo accepted Christ at age 7 while attending the Walnut Grove Missionary Baptist Church of Murfreesboro. He was later baptized at the age of 8 at King Solomon Baptist Church in Nashville, TN. After relocating back to Murfreesboro, he reunited with the Walnut Grove Missionary Baptist Church where he had first confessed Christ.

Pastor LaBarron McAdoo is married to the former Miss Angeleatha Allison of Knoxville, Tennessee, who is a graduate of Middle Tennessee State University, where she received a Bachelor of Arts in Social Work and a current candidate for the Master Degree in Education with emphasis on School Administration. Reverend McAdoo is the father of three (3) children, two sons and one daughter: Reverend LaBarron Jr., Mychal DeJuan, and MeKayla Dominique.

Pastor McAdoo acknowledged and responded to the call of the preaching ministry in 1978 while preparing for high school. and preached his initial sermon in February 1980. He is a graduate of the American Baptist Theological Seminary and Emmanuel Bible Seminary both of Nashville, Tennessee and holds two doctoral degrees from Andersonville Baptist Seminary with a Doctoral Degree in two fields of study (D.TH & D.Min) in 2005. He has attended course studies at Vanderbilt University of Nashville & Dallas Theological Seminary.

Pastor McAdoo loves reading, preaching, teaching, and fishing. He is a serious student of the Word and remains committed to the building of a spiritual house of worship where people are developed into a dynamic demonstration of the awesome power of God.


Blessings,
LaBarron McAdoo